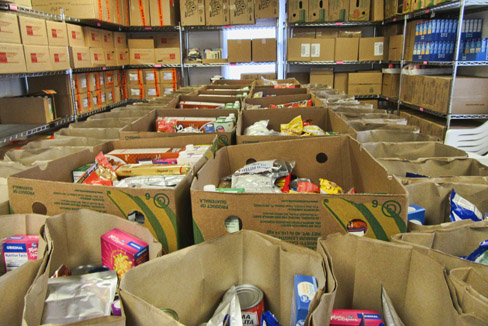 Every Monday and almost-every Wednesday, each week of the year, a group of dedicated volunteers gather at the Athens County Food Pantry to pack food for delivery to food-insecure Athens County residents. Packages of spaghetti, canned vegetables, canned fruit, canned meat, beans, and shelf-stable milk (among a variety of other nutritious food). Food for breakfast, lunch, and dinner.  Boxes and bags of shelf-stable food supplemented by frozen meat, bread, and sometimes fresh eggs. Fresh produce like apples, sweet potatoes, or potatoes if they are available through the Southeastern Ohio food bank.
An early-month delivery of a truck-filling 12,000 lbs. of food will be gone by the end of the month. Family size determines whether a family receives a bag, a box, or a mixture of both. The Food Pantry currently serves about 1,000 income-eligible people per month.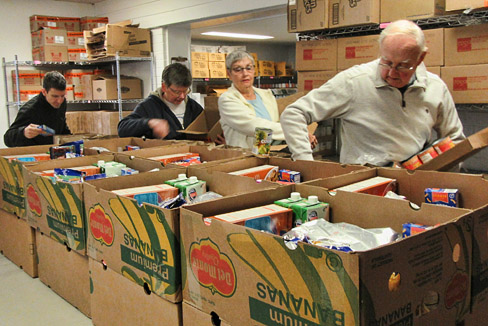 Mike Harrington, Food Pantry volunteer remarked, "Athens County has as an unfortunate distinction of being among the most food-insecure counties in Ohio, with one in four residents living below the federal poverty level according to recent US Census Bureau analysis.  The generous support of our tremendous community drives our mission of providing emergency food to those that have been marginalized."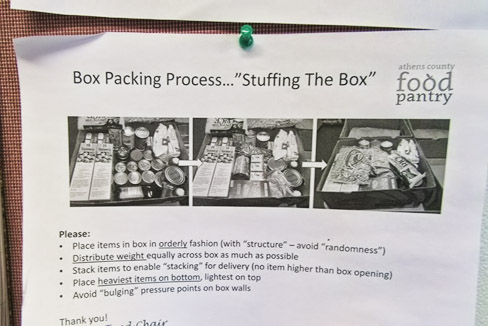 All the food provided by the Pantry is entirely paid for by community donations, which can lead to hard decisions. Will the budget support one milk, or two, or none in a food bag? Every donation makes a difference. Please support the Pantry by donating today.
24 boxes and 40 bags of food