A Simple Goal
The Athens County Food Pantry was first conceived in early 1980 with the Athens County Ministerial Association. Shortly thereafter, in July of 1980, the food pantry opened and began serving the Athens County Community with direct food assistance for families in need. Approximately 816 people were fed that first year, with an average monthly budget of just $267. 
We've inhabited many locations throughout the county, had many committed volunteers, and faced many challenges but throughout, our one goal has remained the same: to help feed our community.
The Food Pantry Now
We have a sorting / packing / storage facility on Richland Ave. and give out food at four different distribution sites including every weekday at Athens County Job & Family Services in Chauncey, our primary distribution location. We provide a three-day emergency supply of food per household.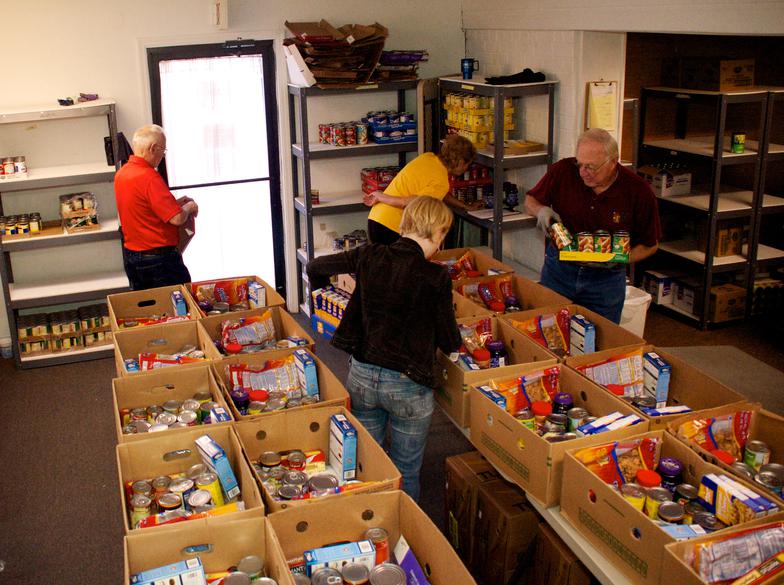 Volunteers at the Athens County Food Pantry pack boxes of food for distribution.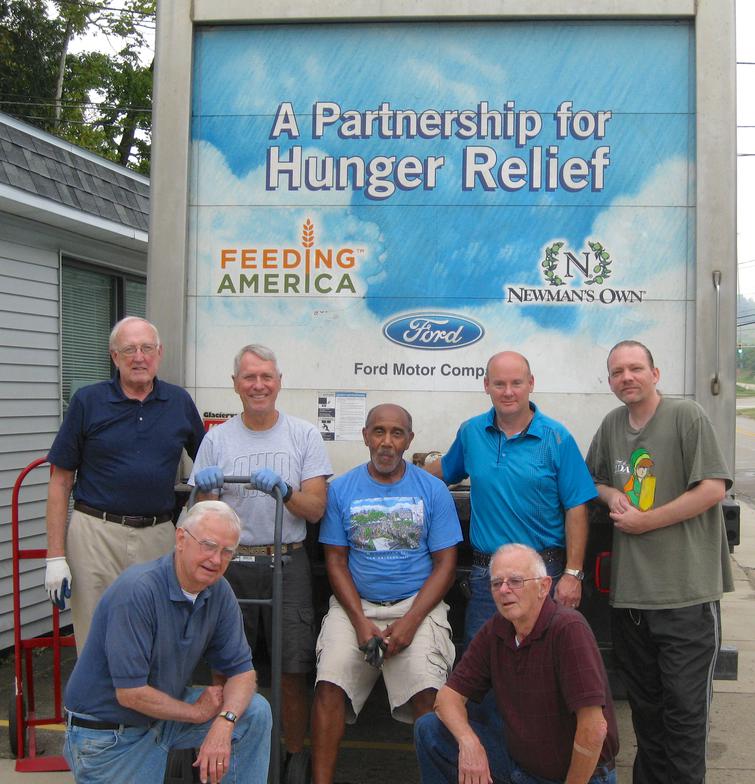 Athens County Food Pantry volunteers pause for a photo before preparing to unload a delivery from the Southeast Ohio Foodbank.
We've developed a clearer vision of who we are as an organization and who we serve in our community over the last year.
An important aspect of our service to the community is continual evaluation of how we can use our donors' dollars to best meet the needs of our clients. In Athens County we are facing an unemployment crisis, significant underemployment, a lack of reliable transportation keeping many from earning livable wages, coupled with high housing and utility costs which directly result in more and more underfed people.
Our aim is to understand the needs of those we serve as our friends and neighbors. That's why we're continually fine-tuning our program to ensure that we are maximizing the impact of our funds and that we are providing an ever-growing number of clients not only with the staples, but with healthier, fresher food choices as well.
OFFICERS
Board Chair: Jill Doose
Vice Chair: <vacant>
Treasurer: Bobbi Conliffe
Secretary: Mim Almquist
Food Chair: Mike Harrington
BOARD MEMBERS
Church Representatives
Mim Almquist
Charlie Barman
Mike Bila
Karin Bright
Bobbi Conliffe
Frank Hare
Dan Neason
Carl Savage
At Large Representatives
Bill Allen
Jill Doose
Mike Harrington
Betsy Knies
Our Impact in 2016
---
In 2016 we served 5,185 households:
8,226 adults,

4,739 children and

1,483 seniors.
Interested in helping?  Here's How
---
Who We Are
The Athens County Food Pantry (ACFP) is an all volunteer not-for-profit 501(c)(3) organization governed by a Board of Directors. Federal Tax Identification Number (EIN) #34-1313139.
Our dedicated group of over 25 volunteers comes together to handle the numerous tasks required to operate the Pantry and to make sure that food is always available for people in need. We depend on support from the local community, through individual and group donations, fundraisers, grants and United Appeal for Athens County.
We thank our community, our churches, and United Appeal for supporting our mission.
A brochure (in a tri-fold format) describing the latest information about our Athens County Food Pantry is available at this link.