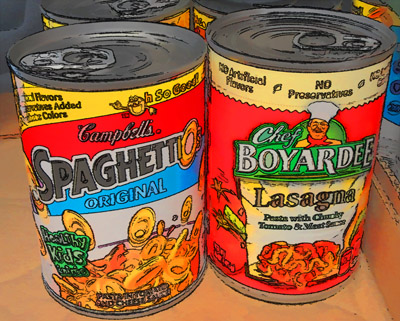 A simple way to help is to give unexpired, non-perishable food directly to the Pantry. We are always incredibly thankful for direct donations, as they will immediately be used to feed families and individuals who are in need. Contact us to arrange a date and time for a volunteer to meet you at the Food Pantry to receive your donation. Scroll down to see suggestions on holding a food drive.
Although we welcome any non-perishable food donation, the following food items are the staples of the food packages that we provide:
Peanut Butter (or other nut butters)
Jelly
Cereal (whole grain, low sugar preferred)
Granola Bars
Canned Fruit (preferably in juice and not syrup)
Canned Vegetables (low sodium preferred)
Condensed Soups (low sodium preferred)
Chicken, Beef or Vegetable Stocks or Broths
Pasta Noodles (whole grains preferred)
Canned Pasta  / Tomato Sauce
Canned or Boxed Meals (Chili, Beef Stew, Chicken & Dumplings, etc.)
Boxed Side Dishes (Macaroni and Cheese, Stuffing, Powdered Potatoes, etc.)
Canned Tuna (in water, preferred), Canned Chicken, Canned Pork, Canned Salmon
Canned Pasta (heat and serve pasta with sauce)
Canned Beans (Pork & Beans, Kidney Beans, Black Beans, etc.)
Dried Beans, Rice, Quinoa or other grains
Dried Fruit (Raisins, Prunes, etc.)
Shelf Stable Milk or Milk Substitutes
Note: Canned goods with pop-top lids are preferable as they are easy to open.  Also, please avoid foods packaged in glass when possible to avoid breakage during handling.
Host a Food Drive
Looking for a group or family project? Here are some ideas for food drives and fundraisers:
Neighborhood food drives
Dinner parties
Boy Scout, Girl Scout and 4-H projects
Church groups and Sunday School classes
School class competitions
Anniversary celebrations, in lieu of gifts
Birthday parties
Athletic teams
Employee competitions
Can castles