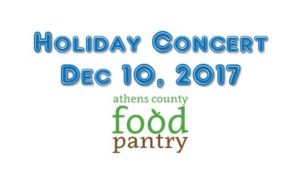 On December 10th at 4:00 pm at Arts West, 132 West State Street, a concert of Holiday Musical favorites is being presented.  Many of your favorite Christmas and Holiday Songs, both classical and contemporary, will be performed by a talented group of professional singers and instrumentalists including:
Matthew Chester-Griffin – baritone,
Melissa Brobek – Mezzo soprano,
Alexandra Bruno – Mezzo Soprano,
Nicholas Nesbitt – Tenor,
Michael Weiser – Tenor,
Harolyn Brient – Piano,
Michael Tobar – Flute and Piano, and
Asa Roach – Harp.
With a joyful and varied program that is sure to warm your heart, lift your spirits and put you in the Holiday mood–you won't want to miss this festive musical event!
Light refreshments will be served during the intermission.
Admission is free.  Monetary donations of any amount will be collected to benefit the Athens County Food Pantry.
So mark your calendars and plan to come enjoy some wonderful music.
Thank you for supporting the Athens County Food Pantry!
Holiday Concert to Benefit the Athens County Food Pantry – Dec 10, 2017