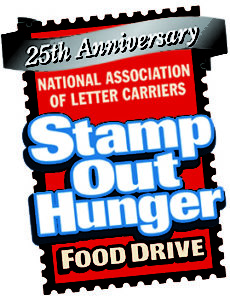 On Saturday, May 13th we will be partnering with the Athens Letter Carriers for their annual STAMP OUT HUNGER FOOD DRIVE.  This year marks the 25th anniversary of this auspicious event!
Will you consider making a donation to help defeat hunger in our community?
Leave a bag with non-perishable, unexpired food at your mailbox and your friendly letter carrier will pick it up and it will be used to feed our neighbors here in Athens County!
Need ideas on what items to share? Here are some common popular items:
canned meats such as chicken, tuna and salmon
canned condensed soups

complete dinner kits that include the meat (beef stew, chicken and dumplings)

canned chili and pasta (heat and serve)

cereal

canned fruits and vegetables

dried beans, rice, pasta
…and the nearly perfect item PEANUT BUTTER (and jelly if you like!) Why nearly perfect? Kids love it, it is a great source of protein, easy to prepare with limited cooking facilities and it works for breakfast, lunch AND dinner!
Watch for more information in your mailbox, but mark your calendars….MAY 13!
Thank you for all your support!
Latter Carrier's Stamp Out Hunger Food Drive – Saturday May 13th