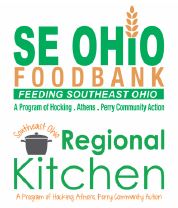 Southeast Ohio Foodbank & Regional Kitchen
1005 CIC Drive
Logan, Ohio 43138
FOR IMMEDIATE RELEASE
June 1, 2017
Contact: Development & Community Relations Coordinator
740-385-6813 ext. 2212
Asti.payne@hapcap.org
RURAL SUMMER FEEDING
The Southeast Ohio Foodbank and Regional Kitchen announced today that they have slots open in their Rural Summer Feeding program for children in the Nelsonville-York School District, Trimble Local School District, and Morgan Local School District. The program starts June 15th and will run for nine weeks.
The Summer Rural Meal Program provides a weekly box of shelf-stable food items to children in the above school districts who meet income guidelines. Each child will receive a weekly box containing 2 breakfasts, 9 lunches, and a 32 oz. shelf-stable milk. Meals can be picked up by the child, parent/guardian, or another adult designated on the enrollment form each week.
To enroll your child, please call (740)385-6813. There are a limited number of slots available.
This program is made possible through the support of the Ohio Department of Job & Family Services and the Governor's Office of Faith-Based and Community Initiatives.
Rural Summer Feeding Program Starts June 15th