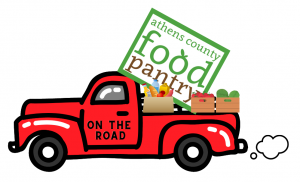 We delighted to announce we are starting a new program to deliver food to struggling families by going into communities with scheduled mobile van deliveries. This new service is in addition to serving clients five days a week from 10 AM to 3 PM at its SR 13, Athens Job and Family Services location.
Working in partnership with local communities, the locations are: Alexander Local Schools in Albany, Trimble Elementary in Jacksonville, Shade Community Center in Shade, Federal Valley Resource Center in Stewart, Amesville Elementary in Amesville, and the Waterloo Community Senior Center in New Marshfield.
The Pantry will do two Saturday deliveries each month, visiting each community several times throughout 2021. A schedule for the first three months is posted under "EVENTS".
You  can also see and download our flyer.
Our press release.